Drunken driver can not arrive to Sweden by ferry
So-called "alcohol barriers" (sobriety checkpoint) has been installed in the Swedish ports to filter out truck drivers who arrive drunk from the ferries. Every year, 3 million vehicles arrive in Sweden by ferry and the alcohol gate system has been developed to check these. First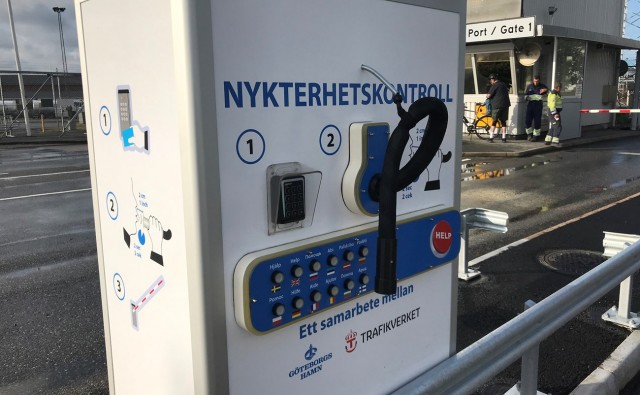 alcohol gates were installed in the port of Gothenburg. The machine, an imposing white and blue box, has been placed by a barrier at the arrival area for trucks ferries. Drivers have to blow a tube, and if all goes well, the barrier opens. If they fail, the gate remains closed and police is alerted (another test will be taken using the police's evidential breath testing instrument). Sweden has some of the strictest alcohol laws in Europe with the drink driving limit set at 0.2 grams per litre while the majority of EU member states have a 0.5 limit, according to the European Transport Safety Council.
In 2014, six gates were installed at the Port of Stockholm, and in December 2019, it was announced that alcohol gates will be installed in all Swedish ports. The use of gates is fast, the testing only takes 30 seconds - from these 20 seconds are used for analysis.
This video describes how to work the Alco Gate.
Soure: Fuvarlevél, portofgothenburg.com
Soure photo: Gothenburg Port Authority
---
Related posts:
---
Follow us on Facebook to stay updated on news • More articles for registered users