Opening M11 Moscow-St Petersburg motorway
The new 669 km M11 motorway runs through the Moscow, Tver, Novgorod, and Leningrad regions which provides a safe and reliable highway link between Moscow and Saint Petersburg. Called "Neva" after the river in St. Petersburg. One of the main advantages of the new motorway is that it cuts travel time to 5-6 hours (on the old M10 it takes around 10 hours to reach either city). In addition, it better integrates the Russian motorways into the international transport system, particularly in Northern Europe. The M11 motorway is also part of a larger infrastructure project too - the Europe-Western China International Transport Corridor.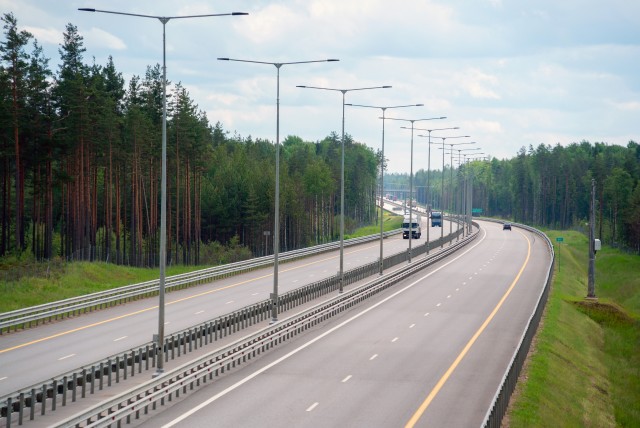 Depending on the section, traffic on the Neva motorway runs in 4, 6, 8 and 10 lanes. The route includes 325 structures – bridges, viaducts, wildlife passages. During winter, the speed limit is set at 110 km/h (68 mph), but in spring it will be increased to 130 km/h (80 mph).
The M11 is a toll road
On M11 operates a closed system of toll collection that allows drivers to make payment at the exit from the highway in accordance with actual distance traveled — kilometers. The fare depends on:
the length of the route,

vehicle category,

​category III: Freight and passenger transport vehicles with 2 axles and a height of more than 2.6 m,

category IV Freight and passenger transport vehicles with 3 or more axles and a height of more than 2.6 m.

time of day (day or night driving),

direction of travel and

method of payment -whether the vehicle is equipped with a transponder (OBU) or not (cash payment).
​Therefore, the entire route from Moscow to St. Petersburg costs between 906 and 2000 rubles.
Click here to find more information about the toll.
Source: Tass, Vinci, mostotrest.ru
---
Related posts:
---
Follow us on Facebook to stay updated on news • More articles for registered users